Olleh CCTV telecop Guard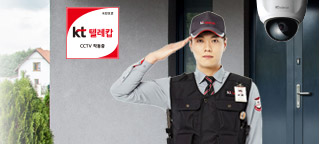 Olleh CCTV telecop Guard
It is dispatch security service with video security service that uses HD camera with over 2-million pixel and network video recorder (NVR, a video control device) that allows viewing of real-time videos and replaying saved videos in PCs(web), tablet PCs or smart phones.
Services
Emergency Dispatch Service

This service is made upon the request of the customer for the field security agent to take actions such as emergency response.

Crime Prevention Service

This service utilizes diverse detectors such as heat detector, infrared detector, glass detector, safe deposit detector, etc. to eliminate risk factors beforehand and, prevents outside intrusions.

Video Service

Through an ultra-high-definition camera can be constantly monitoring the status of the plant, to effectively protect the inside and the outside of the plant through a remote control service
Attendance/Cafeteria Management

This service provides customers with attendance/cafeteria management software program and links it with security systems for the customers to manage attendance and meals.

Digital Gas Switch

An automatic electronic switch installed on the gas valve equipped for the use of gas appliances in homes, restaurants or business establishments.

No Signal of Alert Notification

A service that sends SMS notification to customer's mobile phones that the service is in 'not alert' status when no signal of alert(includes alarm when user is present in the area) is received even beyond the hours not included in the customer's contract.

Emergency Alarm

This service prevents the increase of damages by notifying the police, or sending security agents to the security area once the customer presses the emergency bell during emergency cases. (Emergency notification service is provided 24 hours)

Safe Deposit

A safe deposit designed and sold for the purpose of protecting various important documents such as savings account passbooks, wills, insurances, annuity bonds, marketable securities, sealed documents, taxation documents, passports, etc. from fire.

Interphone/Video phone

This equipment allows users to check the visitor with voice and video service and opens doors/gates when the visitor pages the user from outside.

Light Control

This service prevents the increase of crime by automatically turning on the designated lights in the security area for a fixed period of time upon the detection of warning signal.

Power Failure Surveillance

This service detects power failure of devices operated with electricity (AC, current) that are designated upon mutual agreement with the customer, and when warning signals are received, it sends notification to the customer's emergency contacts.

Access Control

This is a control service where physical access devices are installed in structures such as gates/doors which are connected to security devices, where it allows access to only those who are registered to access the gates/doors through cards, fingerprint, face, iris recognition.

Fire Alarm

This service links sensors to the customer's fire receiver and sends notification to the customer's emergency contacts and fire station upon the receipt of warning signals in the security area.
Features

View high quality Full HD real-time videos
Save high quality videos and view recorded videos (mobile phones, PC, tablets)
Installation of customized cameras and security service for each customers
Quick Dispatch and convenient use (provided with exclusive smart phone application)
Increases interior decoration level with high quality designs
24/7/365 control for immediate response upon outside intrusion
Sends notification to customer's emergency contacts upon the detection of warning signals with its real-time notification service (when power failure surveillance, fire notification and no-warning notification service is availed of)
Product Contents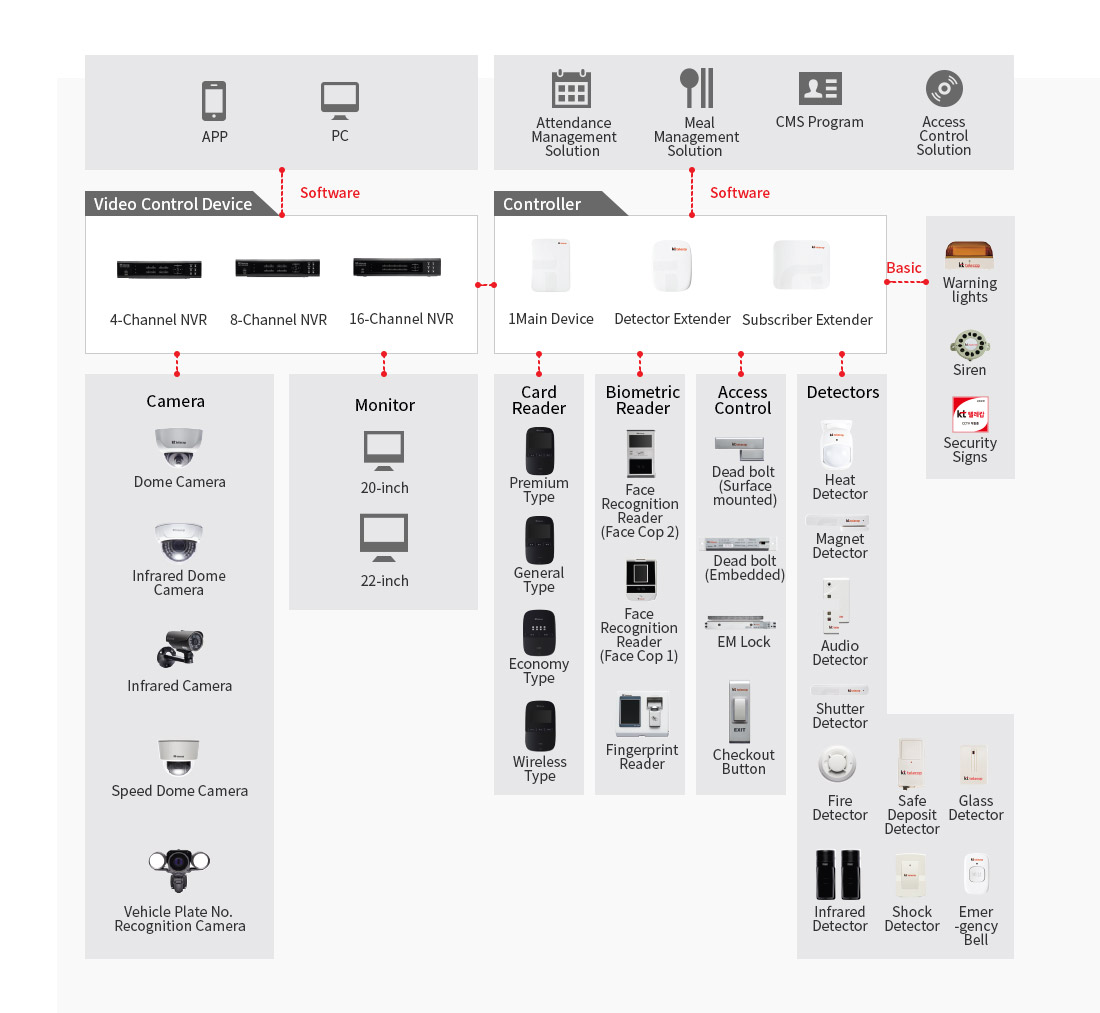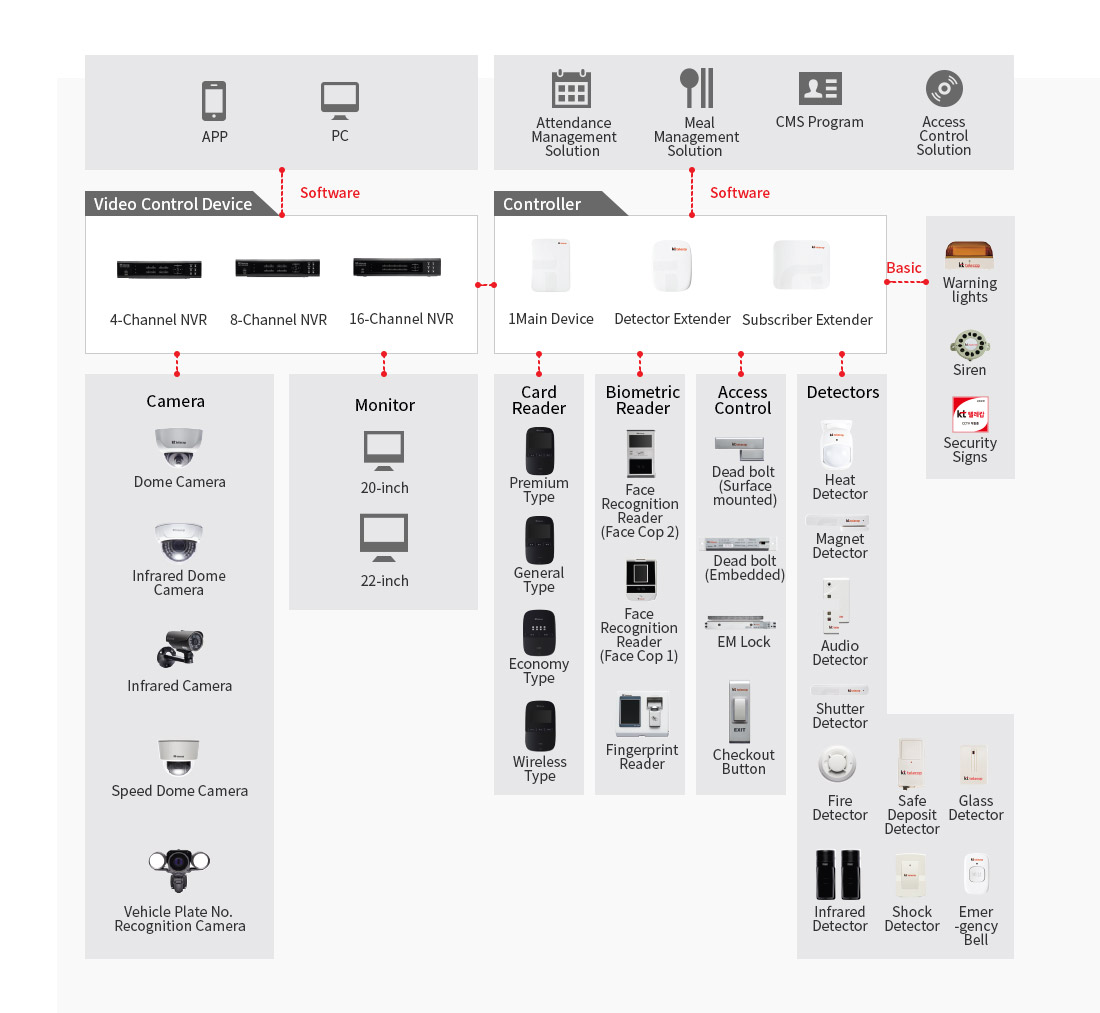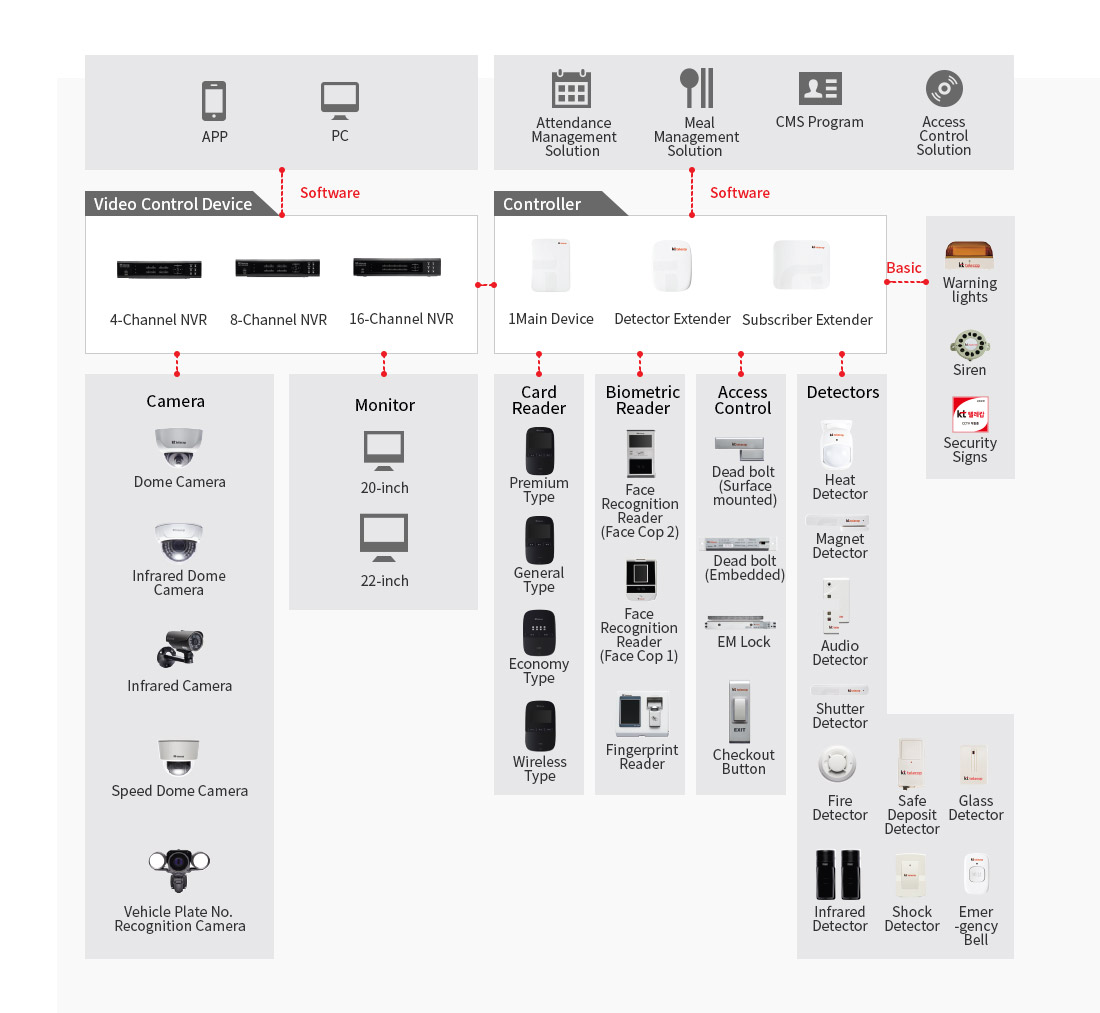 Olleh CCTV telecop Guard Combined Product
OCT Guard is a CCTV and Crime Prevention service combined product, where the monthly charge for the "Basic Model" is a quotation-type, varying depending on the camera, detector, additional options and number of devices the customer wishes to install.
With kt wired-wireless combined discount and kt telecop OCT Guard discount policy, a maximum discount of KRW 1,440,000 may be given for customers availing of the service for three years.